Badgr's Single Sign-On (SSO) allows users to sign in to Badgr with credentials of another service provider
Users may wish to add an SSO to their Badgr account. This provides the ability to sign-in with frequently used credentials such as Facebook, Google, Microsoft, or via an organization's credentials. Follow the steps below to add and existing SSO to your account.
Canvas Users: We recommend creating your account in Badgr with an email address and password before adding an SSO.
Once logged in to Badgr, click on the "Initial Icon" tab and choose "Profile" from the drop-down list.
At the bottom of the page, click one of the provider buttons to integrate the SSO and allow you to sign-in to Badgr using the SSO rather than the user's Badgr account credentials. Users can currently integrate SSO's for Facebook, LinkedIn, Google, Microsoft, and Kony. If you are interested in adding the Twitter SSO or awarding badges using Twitter see our Using Twitter with Badges knowledge base article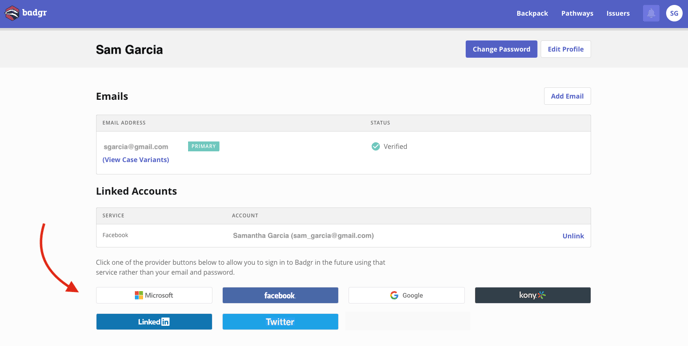 Click on the SSO you wish to add.
If you are not already signed in, you will be prompted to do so.
If you are already signed in to the organization, you will see an authorization screen.
Select the "Authorize" button to connect your accounts.

Adding an SSO allows you to easily log in to your account using a different platform's login information. Any emails associated with the SSO account will not be automatically added to your Badgr account. To add an additional email that a badge was awarded to onto your account see Managing your Badgr Account.
Custom SSO Integrations
For an additional fee, Badgr can create a custom SSO for your organization using your identity provider. We work with a variety of tools including Okta, Shibboleth, SAML2, Oauth, and Azure.