Although there are different ways users can view badges within Canvas, badge sharing features are only available through the Badges menu in a course.
1. View and share badges from your course menu
This is the place to share and interact with badges within Canvas.
To begin, enter the Canvas course where you've been awarded a badge.
Select the badge you want to share to open the Badge view.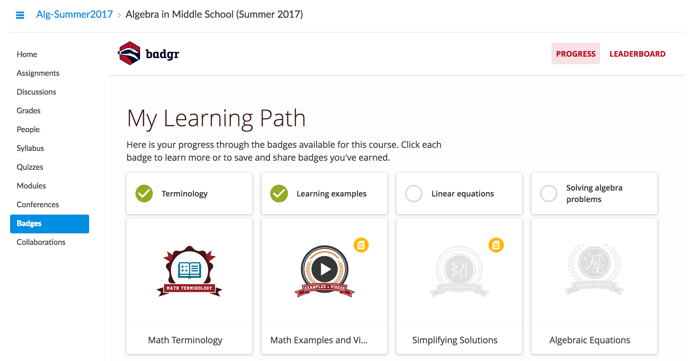 3. Choose the social network button where you'd like to share your badge.
4. Enter your account credentials into the dialog box to gain access to the social network.
5. Post the achievement to your wall, stream or feed.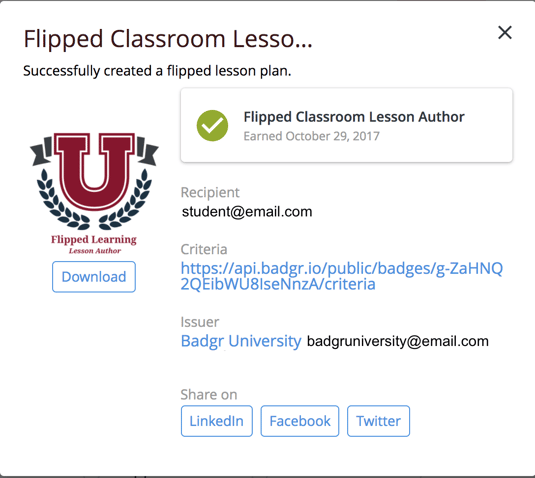 2. View and Earn Badges within a course module
Instructors may add the badge as a viewable item in the module and/or to require URL evidence.



Clicking the badge item in the module produces a view of the badge.



3. View Badges on account profiles


Please note: You cannot interact or share your badges from your account profile.

Canvas admins can enable this feature using custom XML. This allows learners to see all badges earned across all Canvas courses in one place. Once the XML is enabled, from the user's Canvas Account, select Profile then My Badges. Badges will be organized by the course in which they were earned.