What are Emsi Skills?
Badgr and Emsi have partnered together to help learners and job seekers worldwide understand how their credentials translate into the skills that lead into a successful career or promotion. Each skill in the Emsi skills library has a public page that describes the skill, highlights related skills, and lists the top companies that include the skill in their job postings. With growing interest in non-degree and skills-focused training programs, this powerful combination of solutions will enable the design of high quality, stackable programs designed to upskill and reskill workers by combining online certificates, industry certifications, apprenticeships, and micro-credentials. Badges issued by Badgr Pro issuers can now be linked with skills so that links to job market data appears when those badges are viewed or shared.
Why should I include Emsi skills in my Badge?
When a badge is awarded for achieving your defined standard of achievement, recipients will be able to view the specific skill the badge represents. This information will be locked in the Badge's metadata. When viewed, the skill will link to a skill page displaying data for the job market for that skill. Badgr Pro Organizations in the US and Canada can take advantage of labor market data provided by Emsi. See an example here for the skill "
Leadership
." Organizations outside North America can choose to link to job market data provided by Indeed in their country.
How to add Skills to a Badge
Enabling the Skill Option from the Organization Page
This feature is available to all subscribers of Badgr Pro. The Skill option must be enabled at the Organization level in order to be used when creating or editing badges. To access this, login to Badgr, select the Badgr logo in the upper left, and select your organization from the drop-down menu. Select "Edit Organization" (learn to do this see
Editing Your Organization Page
).
From the "Edit Organization" page, select the "Content Settings" tab.
Scroll down until you see the section labeled "Badge Skill Alignments."
Select the option you would like to use from the list.
Select "Save Organization."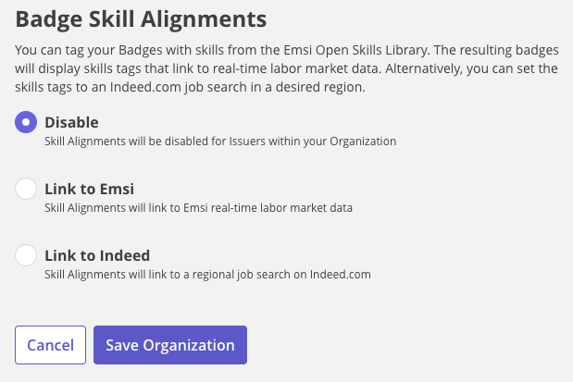 Adding Skills to a Badge
Select the issuer you would like your badge to be awarded from.
Select "Create Badge" or select an existing badge you wish to edit, and select "Edit Badge."
Complete the required fields ending in "Earning Criteria."
The next step will be "Skills."
Enter the Skill(s) you wish to represent with this badge award, such as "Teacher" or "CDL Driver."
You will see suggestions auto populate based on your entered criteria. Select the most appropriate suggestion to add it to your badge.
Complete the badge creation by selecting "Create Badge" or "Save Changes."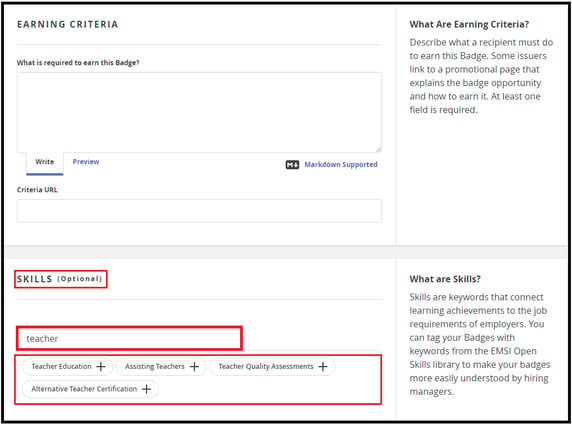 Viewing on the Badge Public Page
On the badges public page, the skills associated with the badge will be displayed in the "Skills" section. To learn more about badge public pages see:
Public Pages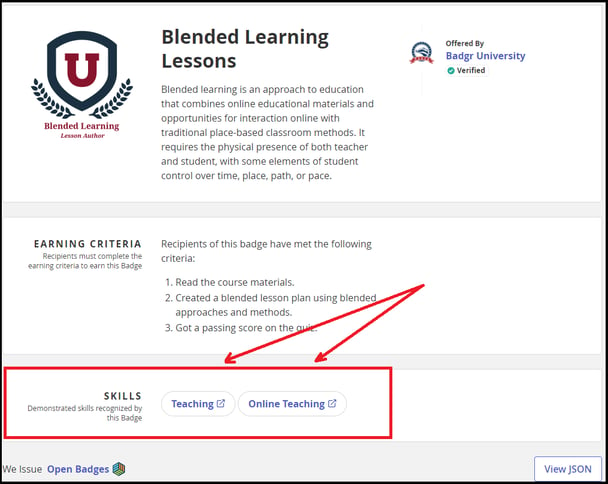 Selecting one of the skills will open a new tab or webpage displaying data about the skill and jobs related to it. The screenshots below show some example data that may appear when users open a skills link.
Or outside the North American region, job data may be linked on Indeed.com: