Badgr offers a customized white-label package at reasonable prices
Our white label services include customizations that allow your brand to be front and center in the application. Let your users and clients experience badging through your organization's lens. Badgr's front-end branding wrapper can display your company's color and logo throughout the user experience to support your program(s) in a whole new way.
Branding and color customization for the entire interface.
A customized welcome message that supports Markdown and appears on the home page.
Header color may be dark or light.
Custom menu of links to connect badging to your program(s) and website.
A variety of Single Sign-On (SSO) options including social media (custom SSOs are available for an additional fee).
Customization of the footer including changing or turning on or off links.
Free user accounts for all your staff and badge earners on your own custom domain.
Email notifications that include your organization's logo and colors.
If the white-label subscription expires, accounts and badges will persist in perpetuity but will revert to Badgr branding.
Setup typically takes 2-3 weeks.
Very affordable!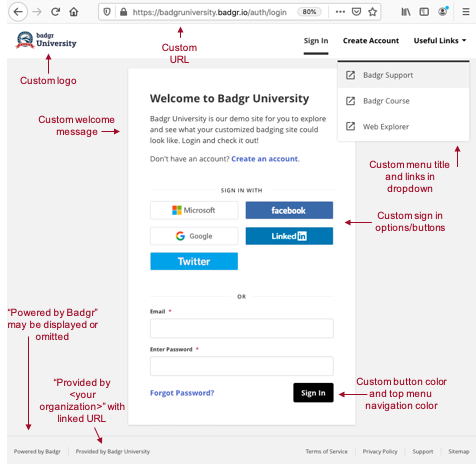 Compare Badgr to these white label sites