Please note that this feature is coming soon and is not yet publicly available
Users need to have an existing Badgr account and with an Issuer before adding the LTI to Blackboard
Adding the Badgr Spaces LTI to Blackboard
As an administrator of a Blackboard instance, navigate to the Administrator tools.
Navigate to "LTI Tool Providers" in the Administrator Panel
Click "Register LTI 1.3/Advantage Tool"
Enter the Client ID
Ensure the Tool Status is Enabled
Submit
Install the REST Tool
Navigate to "LTI Tool Providers" in the Administrator Panel
Click "Create Integration"
Enter the Application ID
Specify a user in the Learn User field
This should have read access to course content, memberships, and grade book.
Submit
Setup Badgr Preauthorizations
Navigate to "Badgr" in the Administrator Panel.
Badgr should successfully load and offer to preauthorize Orgs or Issuers
Setting up Badgr Spaces in a Course

Badgr can be found in the "Books & Course Tools" section of an Ultra Course.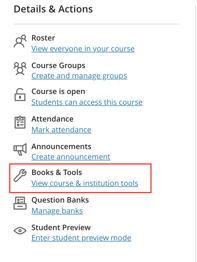 Once an Instructor selects Badgr Spaces from the tool list a new Space is created. Instructors can then create Objectives to associate Blackboard course items with Badges, connect Pathways, and set up the Leaderboard. Depending on when students are enrolled users may need to do a full-page refresh for the students to be added to the Space.
There can only be one Space per course and the initial setup of the Space must be done from the Blackboard course.

Once the Space has been created, the first step will be to select an issuer.
Instructors will need to enter the email associated with their Badgr account, then click continue
A verification code will be sent to that email
Once verified, the instructor will be able to select an issuer from their account using the "Use Issuer" button

Creating Objectives
There are three kinds of Objectives that can be created: Blackboard Assignment, Manual, and Badge. For information on Manual and Badge Objectives see our article here.



To create a Blackboard Assignment Objective, there needs to be a test or assignment that is either in a folder or module. Users can then select the assignment to create an Objective for.
Using the drop-down, users will need to select an existing badge or create a new one. Blackboard Assignment Objectives can be completed based on a minimum point score, a minimum required percentage, or any submitted grade (ie. submitting an assignment). Leaderboard points can also be assigned.
Please be aware that at this time grades do not need to be posted for badges to be awarded.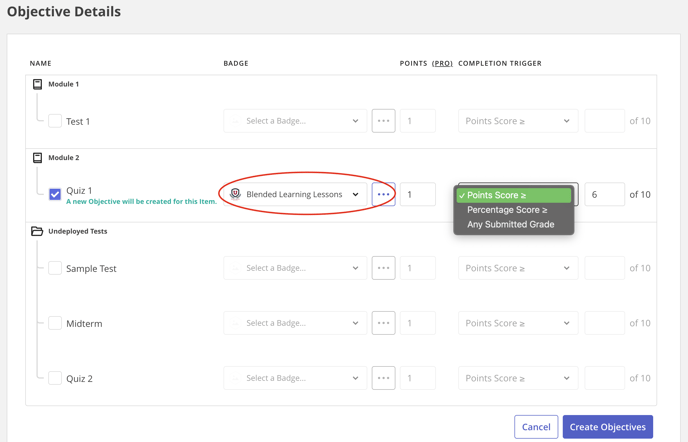 For additional information on using the Badgr Spaces Leaderboard and viewing learner progress see our Badgr Spaces knowledge base article.


If grades do not appear to be in sync with Badges, there is a resync button at the bottom of the Progress tab.