Badgr users can create a Badgr Space to track Badge and Pathway progress for a group of Recipients within Badgr, outside of an LMS, and using our LTI for Blackboard. Users can create badges for learners to complete, track progress on a Pathway or Leaderboard, and give users a more interactive experience. In partnering with Blackboard we are able to offer specialized badge triggers to award badges based on assignment completion.
Please fill out this form to have this feature enabled on your issuer or organization
Users need to have an existing Badgr account and with an Issuer before adding the LTI to Blackboard. For more information on creating an issuer, please follow this link
For additional information on using the Badgr Spaces Leaderboard and viewing learner progress see our Badgr Spaces knowledge base article. And for information on installing the Badgr LTI for Blackboard see our Installation Instructions.
Setting up Badgr Spaces in a Course
There can only be one Space per course and the initial setup of the Space must be done from the individual Blackboard course.

Badgr can be found in the "Books & Course Tools" section of an Ultra Course and then added to the course content. To add Badgr Spaces to the course content, navigate to Books & Tools and select the "+" icon on the Badgr Spaces integration.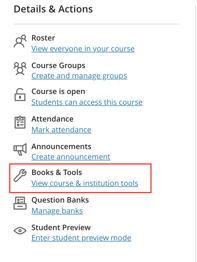 Once the Badgr LTI has been selected, users will need to select an issuer. Instructors will be able to choose from a pre-authorized list of issuers or can use one of their own. To authorize an issuer of their own user will need to:
Enter the email associated with their Badgr account, then click continue
Go to their email account and retrieve the verification code and enter it
Once verified, the instructor will be able to select an issuer from their account using the "Use Issuer" button

Once an Instructor opens Badgr Spaces from the tool list and selects an issuer, a new Space is created. Instructors can then create or use existing badges to associate Blackboard course items with badges, connect pathways, and set up the leaderboard.
Adding Badges
There are three ways badges can be used: Blackboard Assignment, Manual, and External. For information on Manual and External Badges see our article here.

To associate a badge with a Blackboard Assignment, there needs to be an existing test or assignment in the course. Users will then select the Manage Blackboard badges button. A list of all tests and assignments in the course will then appear and instructors will be able to use the drop-down on each assignment to associate an existing badge or create a new one.
Blackboard assignment badges can be completed based on a minimum point score, a minimum required percentage, or any submitted grade (ie. submitting an assignment). Badgr Pro users can also assign leaderboard points if the leaderboard has been enabled.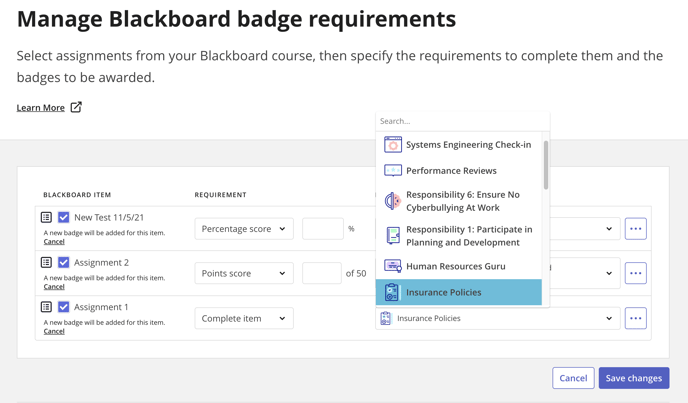 If grades or student enrollment does not appear to be in sync with Badgr Spaces, use the resync button at the bottom of the Progress tab to sync Badgr Spaces with the course.
Issuer Locking
Blackboard administrators are able to pre-authorize issuers at the administration level and determine if individual instructors will be able to use their own issuers and if they will be able to create or modify badges on an existing reauthorized issuer.

After launching the Badgr LTI from the Tools and Utilities section of the administration panel, administrators are able to pre-authorize an issuer(s) to be used in courses. Administrators will also be able to use the toggles to allow/disallow instructors to use their personal issuers and the ability to create or edit badges on pre-authorized issuers.
At this time issuers can only be pre-authorized at the administration level and not in individual nodes.
Badgr Spaces in Original Blackboard Courses
While using Ultra courses is recommended, Original Blackboard users can still use Badgr Spaces. The installation steps are the same for either version of Blackboard.
To access Badgr Spaces once installed, users will select "Tools" from the left-hand side menu and select Badgr Spaces from the list.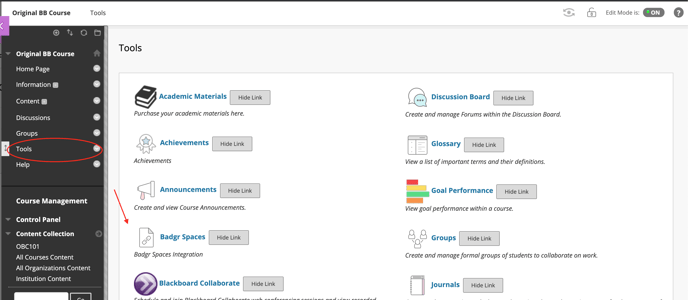 To add a quick "Tool Link" to your course, select the "+" icon at the top of the left-hand side menu and choose "Tool Link" from the list. From the Add Tool Link pop-up, user's can name the new link and will need to select Badgr Spaces from the Type drop-down.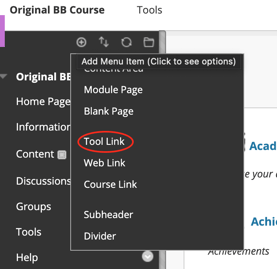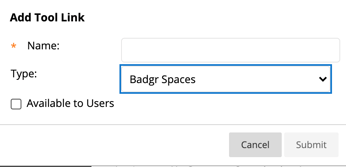 If you are experiencing issues installing Badgr Spaces in Blackboard please check out these resources.
support@blackboardconnect.com