Degreed is a lifelong learning platform that allows individuals and organizations to find, document, and recognize learning. Some badge recipients may want to display their badges on their Degreed profile
Update: Please be aware that at this time that Badgr badges can not be added to Degreed profiles due to the limited badge versions that Degreed accepts. If your badge is a version 1.0 Open Badge you should still be able to successfully add it to your Degreed profile.
Option 1: From the badge award email
Open the email that contains the badge award
Click on the badge image within the email to open the badge in a browser
Copy the URL of the page to your clipboard
Option 2: From My Badges (your Badgr backpack account)
Find the badge you want to add to Degreed and click the share button.
Copy the Share URL
Final Step: Add Badges to Degreed
Sign into Degreed.
Click the "Add to Profile" button at top of any page (1) and select Badge (2).
Paste the URL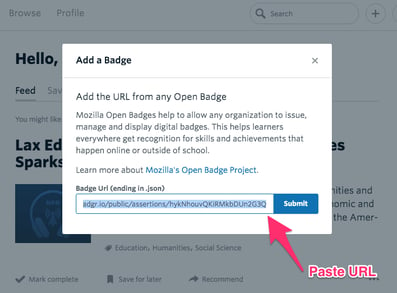 PLEASE NOTE: Degreed asks for a "Badge URL (ending in .json)". Badgr has a "View JSON" button on the page where the JSON URL may be copied from the browser's address bar. Although may paste either URL into Degreed, but we recommend pasting the regular URL, not the JSON URL. This difference is that when accessing the badge later using the regular URL, you can see all the badge data, not just the machine-readable badge verification code.