The good folks at Badgr strive to regularly to improve the overall functionality of the Badgr app and add new and useful features for users. Toward that end, we aim to keep users informed of any changes to the Badgr app and upcoming release dates that may impact your work.

As part of that process, we plan to release updates approximately every two weeks. During these periodic updates, users may experience some disruption in service. In order to minimize the impact on users, we schedule the release of these updates during off-peak hours. The amount of time it takes to deploy a release varies, but it is typically less than one hour. During this time, we'll display a Maintenance Mode message to let you know that we are hard at work and cool updates are on the way.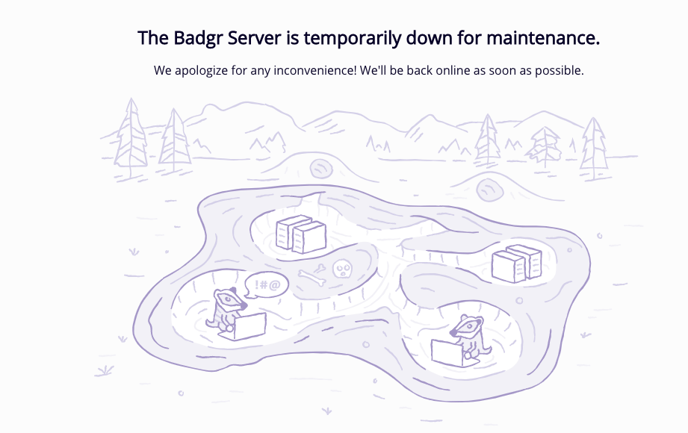 Below is our proposed release schedule for the remainder of 2020. Please note this schedule is subject to change on short notice.
Badgr US
Thursday, Sept 17 @ 5-7 am PT (12-2 pm UTC)
Thursday, Oct 1 @ 5-7 am PT (12-2 pm UTC)
Thursday, Oct 15 @ 5-7 am PT (12-2 pm UTC)
Thursday, Oct 29 @ 5-7 am PT (12-2 pm UTC)
Thursday, Nov 5 @ 5-7 am PT (12-2 pm UTC)
Thursday, Nov 19 @ 5-7 am PT (12-2 pm UTC)
Thursday, Dec 3 @ 5-7 am PT (12-2 pm UTC)
Thursday, Dec 17 @ 5-7 am PT (12-2 pm UTC)
Badgr Canada
Thursday, Sept 17 @ 5-7 am PT (12-2 pm UTC)
Thursday, Oct 1 @ 5-7 am PT (12-2 pm UTC)
Thursday, Oct 15 @ 5-7 am PT (12-2 pm UTC)
Thursday, Oct 29 @ 5-7 am PT (12-2 pm UTC)
Thursday, Nov 5 @ 5-7 am PT (12-2 pm UTC)
Thursday, Nov 19 @ 5-7 am PT (12-2 pm UTC)
Thursday, Dec 3 @ 5-7 am PT (12-2 pm UTC)
Thursday, Dec 17 @ 5-7 am PT (12-2 pm UTC)
Badgr Australia
Friday, Sept 18 @ 7-9 am AEST (Thurs, 9-11 pm UTC)
Friday, Oct 2 @ 7-9 am AEST (Thurs, 9-11 pm UTC)
Friday, Oct 16 @ 7-9 am AEST (Thurs, 9-11 pm UTC)
Friday, Oct 30 @ 7-9 am AEST (Thurs, 9-11 pm UTC)
Friday, Nov 6 @ 7-9 am AEST (Thurs, 9-11 pm UTC)
Friday, Nov 20 @ 7-9 am AEST (Thurs, 9-11 pm UTC)
Friday, Dec 4 @ 7-9 am AEST (Thurs, 9-11 pm UTC)
Friday, Dec 18 @ 7-9 am AEST (Thurs, 9-11 pm UTC)
Badgr Europe
Thursday, Sept 17 @ 10 pm - 12 am BST (9-11 pm UTC)
Thursday, Oct 1 @ 10 pm - 12 am BST (9-11 pm UTC)
Thursday, Oct 15 @ 10 pm - 12 am BST (9-11 pm UTC)
Thursday, Oct 29 @ 10 pm - 12 am BST (9-11 pm UTC)
Thursday, Nov 5 @ 10 pm - 12 am BST (9-11 pm UTC)
Thursday, Nov 19 @ 10 pm - 12 am BST (9-11 pm UTC)
Thursday, Dec 3 @ 10 pm - 12 am BST (9-11 pm UTC)
Thursday, Dec 17 @ 10 pm - 12 am BST (9-11 pm UTC)